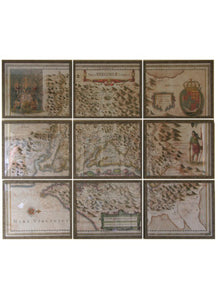 Nova Virginae Tabula, Henricus Hondius c. 1630
Map Of Virginia
Reproduction separated into nine framed sections.
Measures 53 x 65
This is a reproduction of Henricus Hondius' derivative of Captain John Smith's 1612 map of Virginia. It features the British Coat of Arms, a depiction of a native Virginian and the court of Powhatan, the father of Pocahontas. The Chesapeake Bay region is shown in detail with old Native American names. The map is displayed in 9 separately framed sections.